Christmas Special - Birdfy Smart Feeder Christmas Special
$169.99 USD
$249.99
- $80.00 (32% off)
---
Birdfy Christmas Special Edition for Your Loved One! The Christmas packaging is designed for visual appeal only and does not affect the content or functionality of the product compared to the regular packaging.

Package Includes:
1 x Birdfy Feeder Lite/AI Model (Optional)

1 x 

Solar Panel

1 x Greeting Card

1 x 2024 Calendar
🟢 In stock, ready to ship.
AI Recognition
6000+ Species of Birds Recognition
Birdfy boasts a robust database capable of identifying over 6000 bird species worldwide. With AI magic, no more bird strangers, only adorable bird friends with names and profiles.

Share Joy with 20+ Friends for Free
Share device and share the joy. The Birdfy Feeder video and livestreaming can be easily shared with family and friends through the Netvue Next app. Experience the pleasure of observing birds together, no matter where you are.
Bird Friendly Design
Netvue introduces the innovative concept of incorporating a perch into the smart feeder, providing birds with a cozy spot to eat, relax, and enjoy their leisure time. The specially designed perch accommodates the claws of most bird species, ensuring their comfort and pleasure.
Full Color Night Vision
1080P Camera & Night Vision
Equipped with a 1080p camera and full-color night vision, it captures close-up details with 8X magnification,revealing the intricatebeauty of feathers. Day or night, enjoy uninterrupted observation of birds in stunning clarity.
Smart and Functional Design
All-in-one feeder solution
Featuring a waterproof body and a food container with a smart drainage design, our feeder ensures moisture and mold prevention. With a generous 1.5L capacity, it can hold ample bird seed, and the convenient flip-open cover makes refilling a breeze.
Easy to Install
Install Wherever You Want
Choose the most suitable installation method for your bird feeder from three available options based on your specific requirements.
Wall Installation
Pole Installation
Tree Installation
30 Days Free Cloud
Enjoy 30-day free cloud storage for 20-second videos! You can also extend the cloud storage period by subscribing to Netvue's EVR service. Moreover, it supports SD cards with a capacity of up to 128GB, offering ample space for saving videos and photos locally.
IP65 Weatherproof
Integrated with IP65 weatherproof design, Birdfy feeder works properly under rain, sun, snow, and wind.
5000mAh Long-lasting Battery
Equipped with a high-quality 5200mAh battery, the bird feeder can be powered for up to 6 months of continuous usage.
Stable Connection
With a 5dBi antenna, the camera supports more stable 2.4ghz Wi-Fi connection, you will never worry about losing signal and missing a moment of bird visitors.
Talk in Real Time
When squirrels are detected, use Netvue Next app to vocalize a command of "Go away!" and effectively prevent squirrels from accessing bird feed.
Specs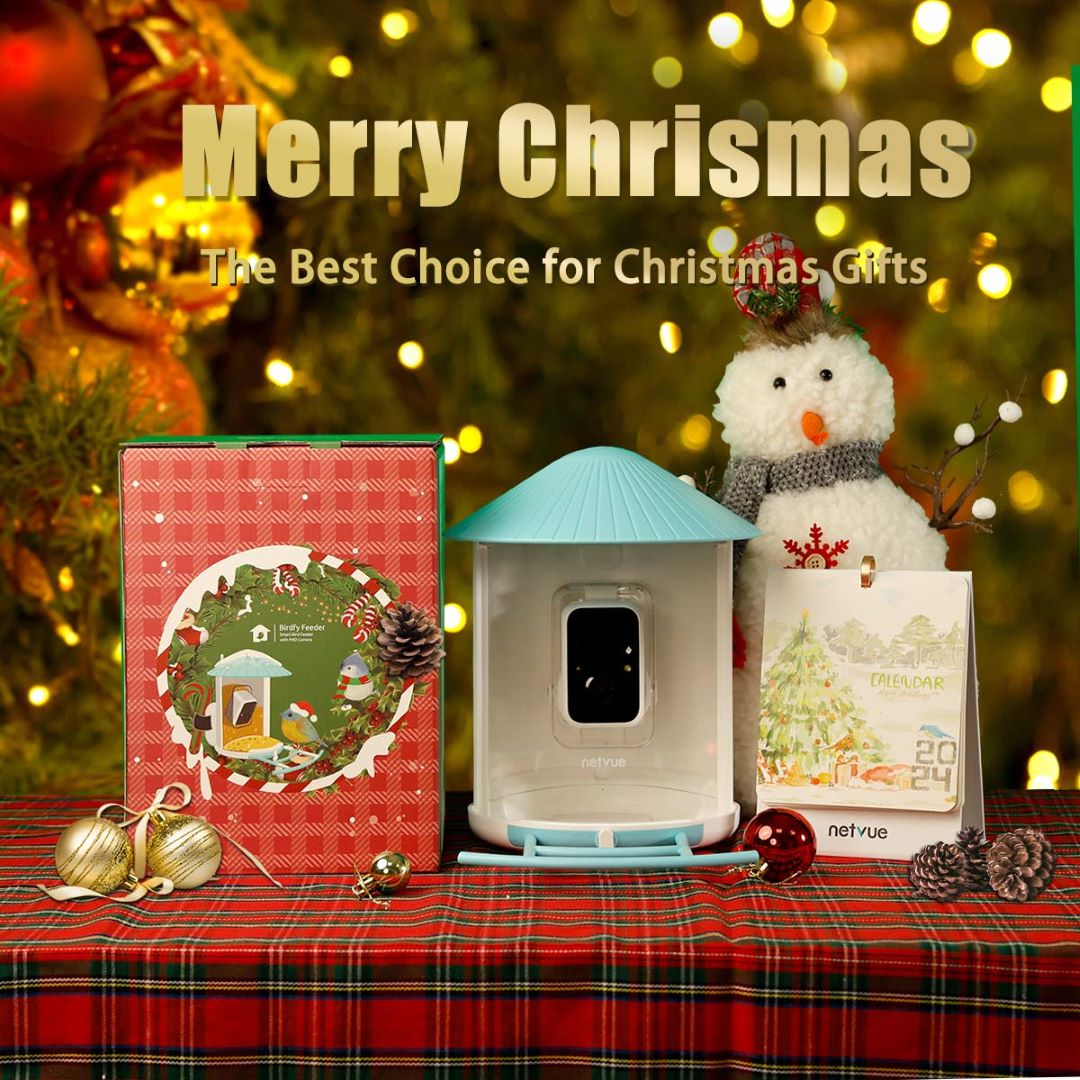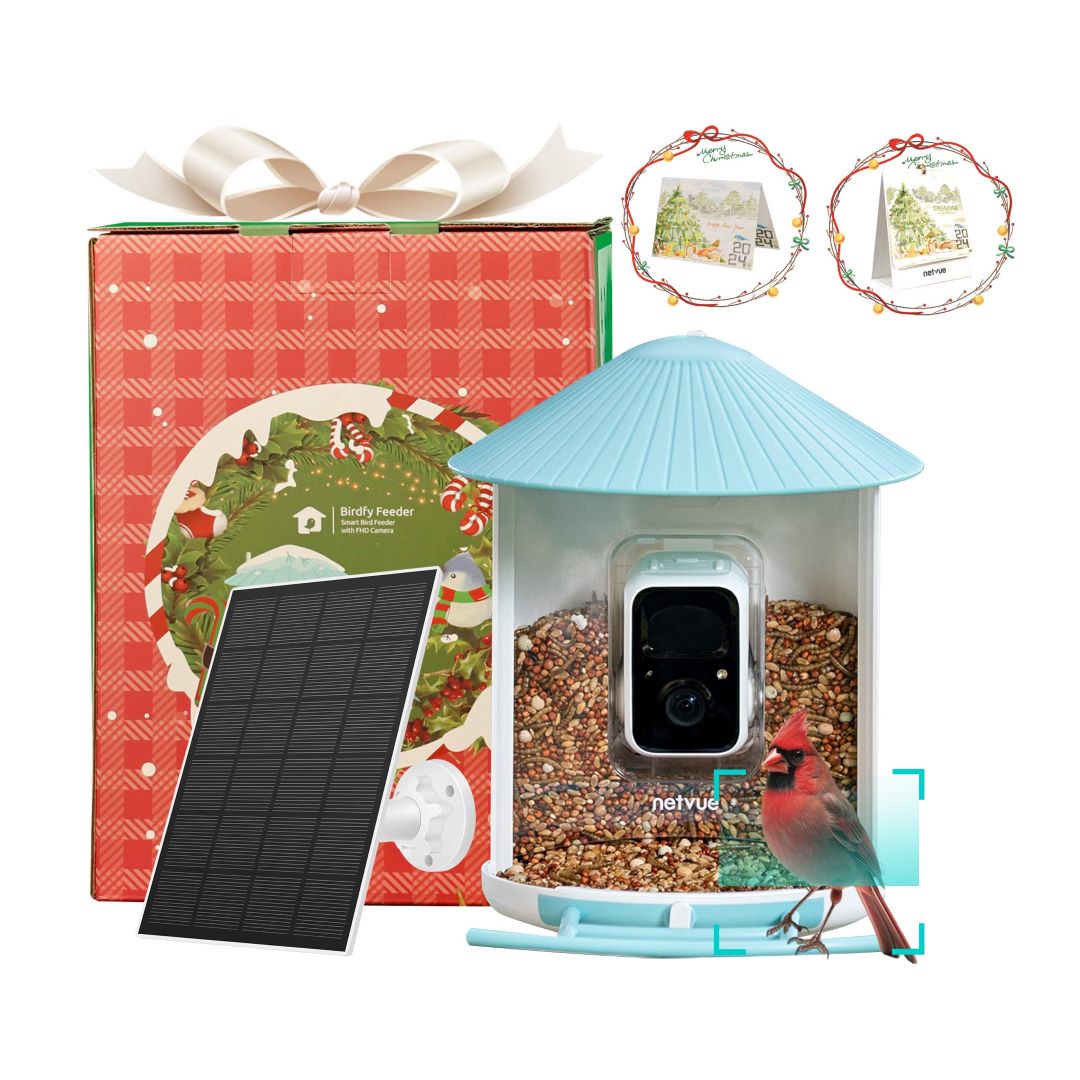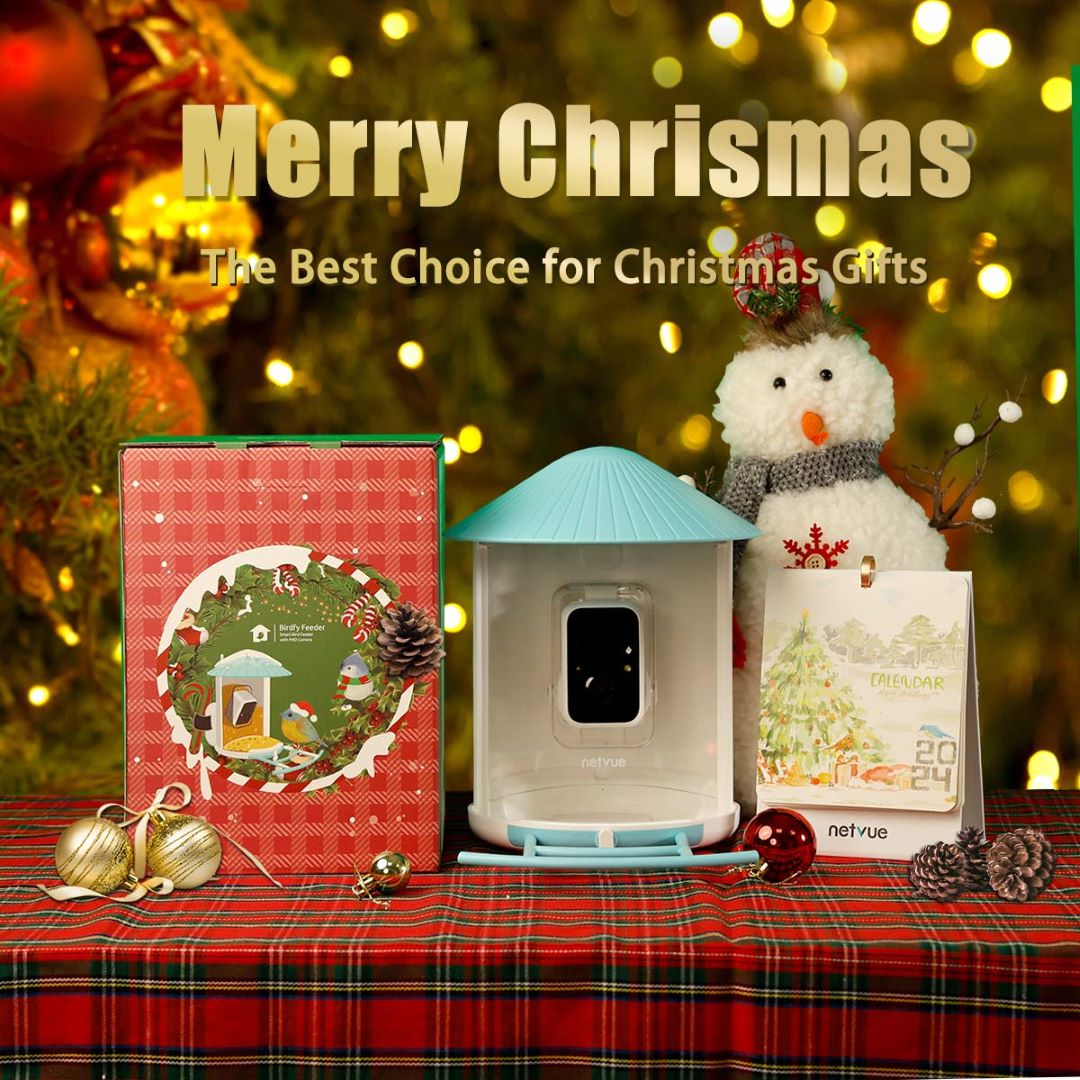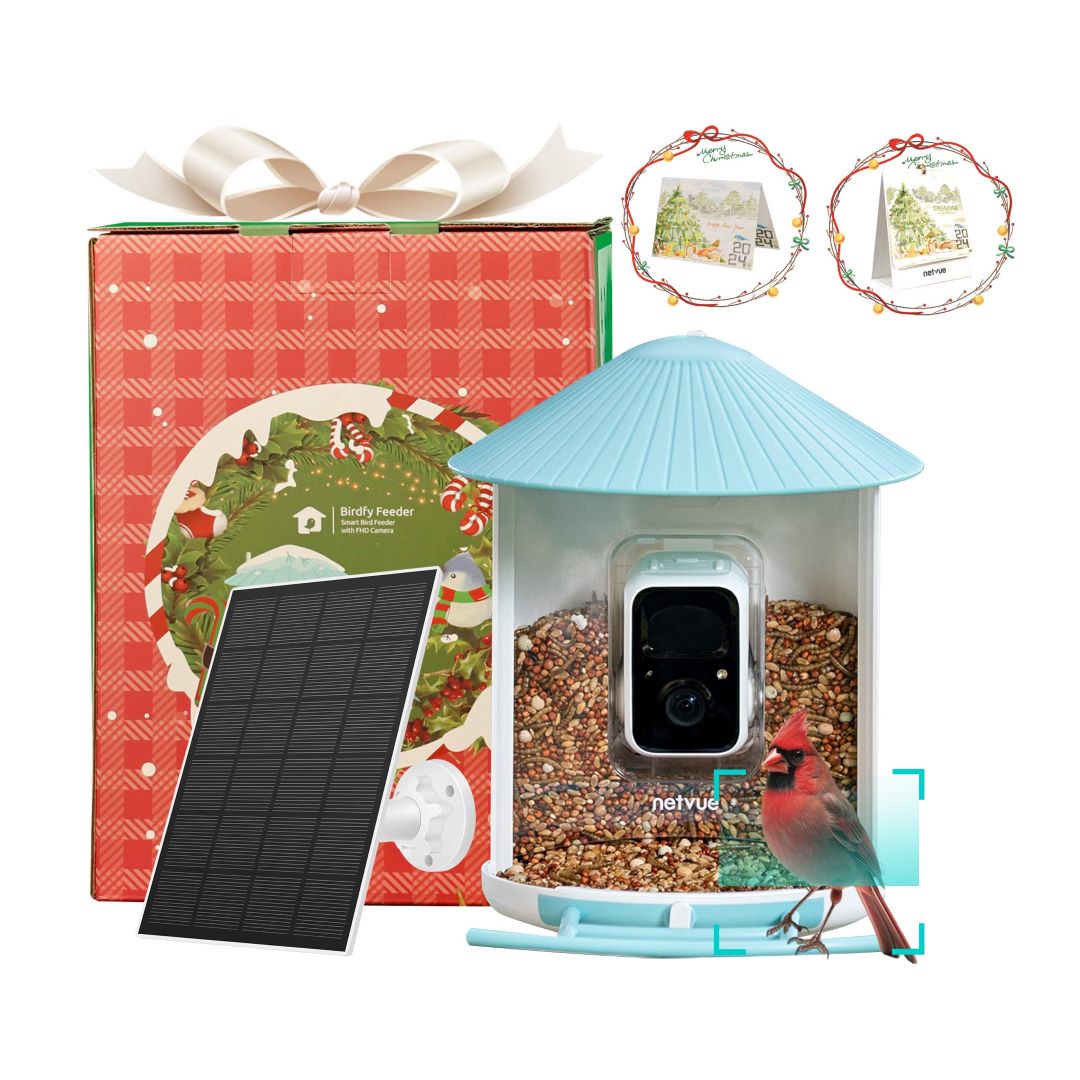 Brand
Color
Main Material
Bird Food Capacity
Camera Resolution
Field of View 
APP

Motion Detection
Two-way Audio 

Power

Charging 
Feeder Dimensions

Feeder Weight
Package Dimensions

Package Weight
Power
Network Connection
Waterproof Rating
Micro SD Card Replay

Working Temperature

Working Relative Humidity
Warranty
Certifications
Birdfy
Blue/Yellow 
PC + ABS
1.5L (50 oz) 
1080P FHD Video 
135° 
Netvue Next
Passive Infrared Sensor 
Microphone & Speaker 
 5000 mAh Rechargeable Lithium Ion Battery 
Included USB-C cable 
8.8"L x 8.7"W x 10.6"H (220mm x 225mm x 270mm) 
3 lbs (1.35KG) 
8"L x 7.6"W x 11.2"H (204mm x 194mm x 284 mm) 
4.7 lbs (2.2KG) 
DC5V 1A 
2.4GHz WIFI  
IP65 
Support MicroSD Cards of 16-128GB (Not included) 
14°F to 122°F(-10°C to 50°C) 
0-95% 

2 years
FCC, CE, UL, RoHS 
Brand
Color
Main Material
Bird Food Capacity
Camera Resolution
Field of View 
APP

Motion Detection
Two-way Audio 

Power

Charging 
Feeder Dimensions

Feeder Weight
Package Dimensions

Package Weight
Power
Network Connection
Waterproof Rating
Micro SD Card Replay

Working Temperature

Working Relative Humidity
Warranty
Certifications
Birdfy
Blue/Yellow 
PC + ABS
1.5L (50 oz) 
1080P FHD Video 
135° 
Netvue / Netvue Next / Birdfy by Netvue 
Passive Infrared Sensor 
Microphone & Speaker 
 5000 mAh Rechargeable Lithium Ion Battery 
Included USB-C cable 
8.8"L x 8.7"W x 10.6"H (220mm x 225mm x 270mm) 
3 lbs (1.35KG) 
8"L x 7.6"W x 11.2"H (204mm x 194mm x 284 mm) 
4.7 lbs (2.2KG) 
DC5V 1A 
2.4GHz WIFI  
IP65 
Support MicroSD Cards of 16-128GB (Not included) 
14°F to 122°F(-10°C to 50°C) 
0-95% 

2 years
FCC, CE, UL, RoHS 
Frequently asked questions